Rishabh Ronin Shrivastava:
(134500@gmail.com)
Asif Ahmad
Lab Incharge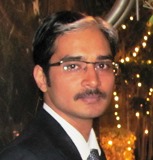 Because the terms "nature" and "nurture" have their own importance, an environment in which the organism grows plays an equally important role as the one played by its genes. Niche adaptation is seen at every level in nature and the success of an organism depends on how it adapts itself to the challenges provided to it by the environment. Since a particular environment (niche) acts as a "constant" for the microbial cell (due to its short lifespans), it is very much capable of inducing changes in its genetic constituent and a change at genetic level always leads to changes in gene expression patterns. This "gain" or "loss" (of gene/s) may lead to differential protein content, which is where the main interest of my laboratory lies.
Research in my laboratory with collaborative groups' aims to determine and compare the gene expression pattern of a wide range of microbial strains isolated from different sources. Using advanced genomic and proteomic tools we are working to find out niche related changes and identification of source specific genetic markers. This understanding will help us recognize the role of genes and proteins in virulence, niche adaptation and survival and will finally allow identification of bio-control strategies.
Because the production of small antimicrobial peptides is a common defense strategy against bacteria that is displayed not only by microorganisms but also by animals and plants, we are also working on isolation of enterocin from Enterococcus spp, its biological screening and protein profiling.